Growing is an inevitable process in life. It is true that everything that is alive will grow, but that growth can look different depending on who is doing the growing.  My children tend to complain of aches and pains in their extremities often.  They are now 8 and 9 years old – and I always remind them that growing pains are simply a part of becoming who the Lord intended them to be.  Little do they know that the growing pain they currently experience in their bodies, will soon also be felt in their soul as they sort out through the events and choices they will have to live through.
I recently started to allow myself to be creative again – to speak in the language of colors and not simply words.  There is something to be said about letting go of all control and allowing the Lord to take over the creative process.   I guess you can say that I am allowing myself to be vulnerable again; giving myself permission to be moldable and reachable.
As I sketched the sunflower in this page, every line reminded me of the different paths I have taken in life.  Some have been very straight, but others have been filled with curves and sharp turns that many times caused me to completely head in the opposite direction I was headed to.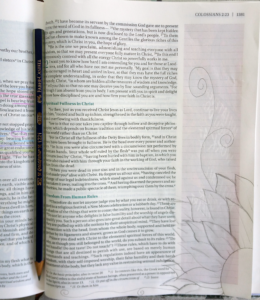 Yet, as I started filling in the blank spaces with color, something beautiful emerged: ALL of my life (every single event) has had a purpose. The Great Sculptor knew exactly where He was laying the boundaries that would form the image He had decided to engrave in me.  The colors He has chosen to lay out before me (whether dark or light) have been placed EXACTLY where they belong in order to have His Glory shine forth.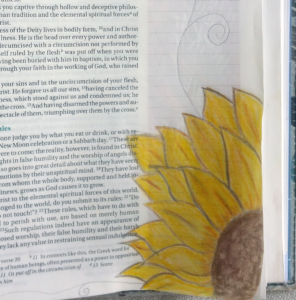 When I decided to outline the petals with the markers so that the details of each petal would stand out, I was reminded of the many times it feels like I am right back where I started with certain seasons in my life I simply do not wish to relive as often as I do.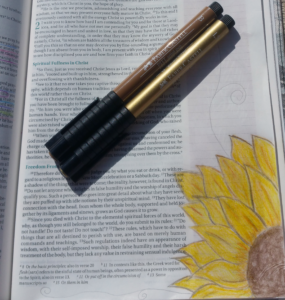 But, when I finished going over each of those lines over and over again, I realized that each stroke of my hand made the beauty of the flower stand out even more.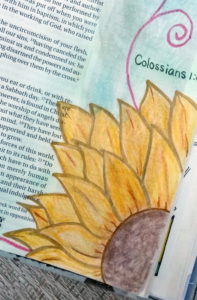 As my Great Artist continues to paint the canvas of my life, I hear Him whisper "Be Strong and Courageous. Be Brave – for the Gospel is growing and bearing fruit."  (Joshua 4:1-4 and Colossians 1:6 )  Regardless of what may come my way, His Truths remain the same.  Even the difficult things that I may have to endure are a part of His huge plan – where the Gospel grows and hopefully bears lots of fruit in me and those around me.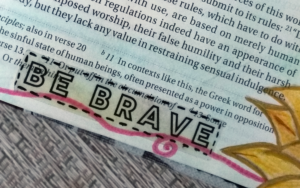 His plans are greater than mine – and though I don't always understand them, I know that He is for me and not against me. My Father – my Creator, my Redeemer lives – and He chooses broken vessels to showcase His Strength.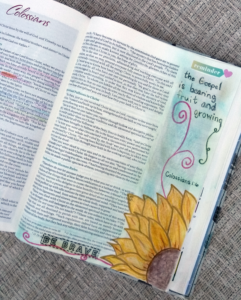 May the Gospel continue to bear fruit and grow in you this week.
Love in Christ,
Nana
General Supplies: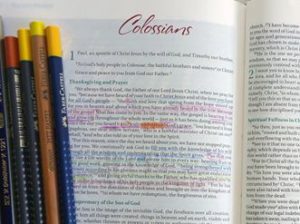 Faber Castell Markers and Colored Pencils (Email me for specific colors)
Beautiful Word Bible
Me & My big Ideas Planner Stickers